Hours and Activities
The Geographic Resource Centre (GRC) located in S403 Ross provides research and study facilities for students in the Department. Physical readings can be borrowed at the resource centre, please check the hours link above for availability.
How to look up a journal article.
When your instructor gives you a citation to look up it will often look like this.
Mohan, J. (2003) "Geography and social policy: spatial divisions of welfare." Progress in Human Geography 27 (3): 363-374.
This citation contains all the information you need to find this article.
Start at the library homepage
Type the journal title into the search box and select periodical title from the drop down menu.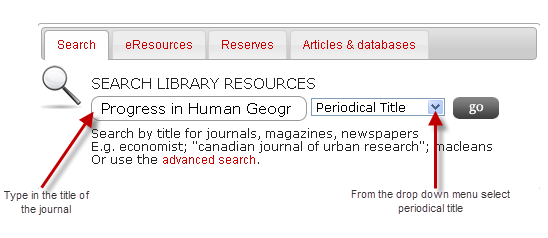 Often there will be multiple entries for one journal title
In this case the journal has two title entries and three different vendor options. This happens when the library purchases a group of electronic databases and sometimes titles are duplicated. Not every vendor has the same type of access so all options are left in the catalogue.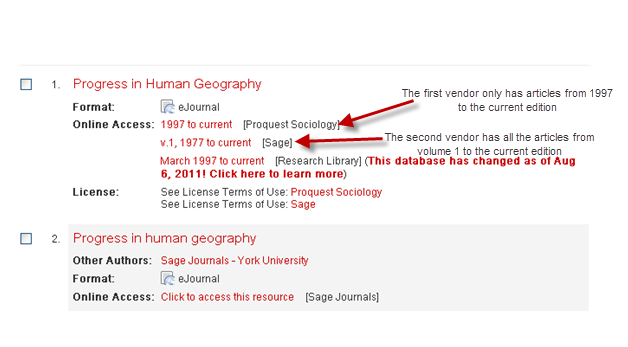 Be sure to look at all your options, sometimes one vendor will offer the articles only as PDF's while the other vendor will offer the articles in HTML with live links to cited articles or provide different download options.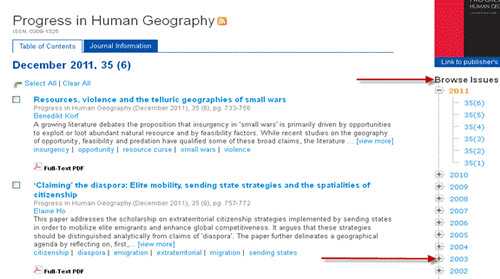 While different vendors have varied opening screens look for the words archive, browse issues, or past issues and click on the year that you need.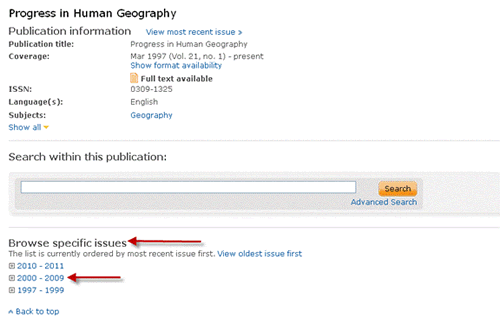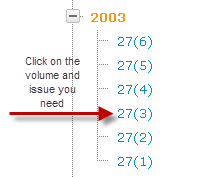 Select the volume and issue you need and scroll through the list of articles in that issue.

If you click on Full-Text PDF you will open the article, sometimes it will open in a new window, make sure that your browser will allow a pop up.
If you need any more help visit the GRC or the information desk at Scott Library.